Tennis ComStat v.2.0 — improved match analysis, new unique indexes and even more detailed stats
We proudly present a new version of our analytical report – Tennis ComStat version 2.0. Our team has been working on it over the past year trying to make it more useful. We highly appreciate your feedback – all comments, reviews and proposals were taken into account. We strongly believe that together we can create revolutionary product in tennis analysis. So, what's new in 2.0 version of our report?
1. Serves balls placement page was completely redesigned. Except general view of service direction from ad/deuce court, now we can analyze the following: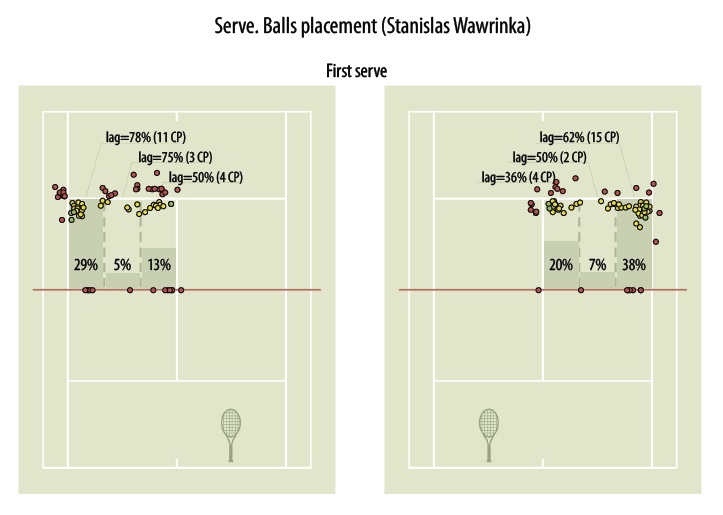 Bar charts were added to each serve zone (T, Body and wide), so we can easily see what type of serve is mostly used by the player;
New tennis term "cheap point" is now calculated. Cheap point (CP) = ?6 shots rally won by the server excluding opponent's unforced errors. That shows us how many points were won through your good service and which direction was more effective and dangerous.
Iag (aggression rate on serve) shows us ratio between cheap points and all points won after serving to certain zone. If I made 20 serves to T, won 12 of this rallies and 6 of them were cheap points, so we have aggression rate 6/12 = 50%.
2. Main service stats are now available in more detailed break-down: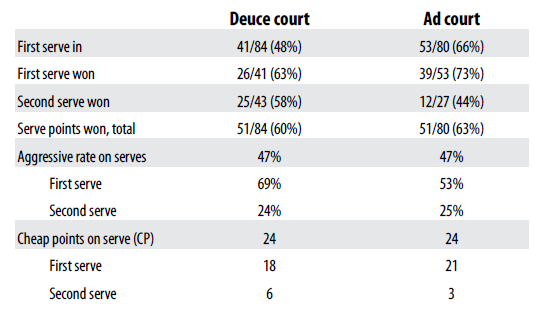 First serve won, % of first ball cheap points and other main statistic parameters are now available separately for ad/deuce court for further tendencies investigation;
 Separate court layout for serve directions on breakpoint down situations. Every player has his own favorite service on crucial points, so that give us additional advantage.
3. We also reconsidered the way to analyze service return play:
Now we see player's position the shot was made from and, moreover, which of this shots were successful
Balance between neutral/attacking topspin shots and defensive blocks/slices
New court zones division. Number of zones were reduced to six, but now we see the depth of return shots;
4. Winning court zones. In previous version of the report it was all mixed up, but now we see clear picture:
How many points were won from each zone ("+" are winners and shots after opponent made forced error, "-" are my unforced errors);
How many points were lost from each zone.
5. Provoked points. Now we can track all shots that caused opponent's forced error:
Except the green solid lines for winners, the hashed lines show us directions of shots that obliged opponent to make a forced error;
To avoid possible discrepancies own player's forced errors were excluded from this scheme.
6. Court zones were also updated at "all shots placement" page: now we see total number of shots made from each zone and more detailed directions break-down.
Full match report for recent US Open final between Stan Wawrinka and Novak Djokovic is available here.
Feel free to contact us if something remains unclear — peculiarities of our tracking system and analysis method, prices policy and terms of cooperation. We're always open-minded for something new and every client of our company is also our mentor and adviser.
Best regards,
Tennis ComStat Team.