How to work with match reports. Analysis for Yuichi Sugita
It's always difficult to work with big amount of data. Tennis ComStat not only provides their customers detailed match reports, but gives a clear vision on how to interpret this data to the certain recommendations that can be used to prepare for the match effectively. This is our piece of summary analysis prepared for one of our clients, Ilya Ivashka who's currently ranked as ATP World number 185. In terms of preparation for his first round opponent Yuichi Sugita at the latest Quanzhou Challenger our team has analyzed the following match: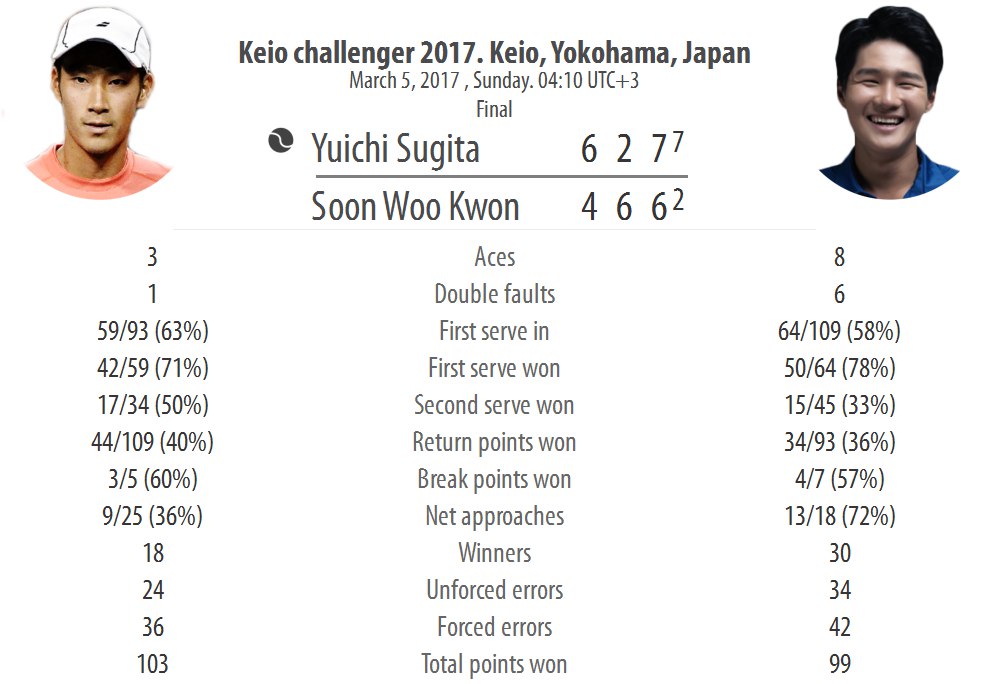 Full match report can be found here: Yokohama Challenger 2017. Yuichi Sugita – SoonWoo Kwon
---
In general. Sugita is good at keeping ball in the game and tries to play offensively, but his shots are not solid and consistent.  Thus, sometimes he cannot handle with deep and powerful shots and has to response with slight short balls. It gives enough time to run around or even come to the net to make well-prepared attacking stroke. The main weapon of Sugita is forehand and it's very variable: he finishes a lot of rallies with FH and varies his shots direction.
And very disbalanced picture we see there from backhand. Left-to-left is the prevailing shot direction, only 6% of them were played down the line and, in general, very few shots to the opponent's right side. But those BH crosscourt shots are very deep and tight, and can be followed by running around forehands or moving forward with sharp approach shots to the opposite corner.
Video-cut for Sugita's actively won points. Look through it carefully to understand what these shots look like.
---
Serve. It is hard to detect clear tendencies of Sugita's service, as his opponent played very stable and effective on returns and didn't provide him short balls. However, the second ball was served mostly to the opponent's backhand. During the first games, until he starts to serve it more variable, you can try to win a little margin on that.
Serve returns. While receiving the first serve about 50% of Sugita's return strokes were short and slack. Despite the fact that his opponent's serve was stable, as in the case of baseline play, there was no real power in these shots. There was a lot of deep returns of the second serve, but they were slow as well. Good chance for coming to the net and choosing comfortable position to perform the stroke.
Summary. You should attentively monitor whether he keeps serving second ball to the left and push on him at decisive moments. First serve return is weak and short, second serve return is deep but is not offensive and always goes to the opponent's backhand. He always plays to the left from BH. The main thing here is avoiding short balls; do not provide him any chance to use his variable forehand from comfortable position. Try to play more to his weak backhand side when counter-punching, as his cross-court responses are predictable. These patterns are obvious, so take it seriously. If he keeps following the same game picture, you will be prepared for a big number of weak inconsistent shots and can overlap them moving to the net or use your favorite down the line backhand.